Bryan Well being Nurses Annoyed and Exhausted with Current COVID-19 Surge | well being and health
Nurses talk about their frustration and exhaustion as unvaccinated patients fueled a surge in Bryan's COVID-19 population.
Frustrated. Speechless. Exhausted.
These are some of the words two Bryan Health nurses have used to describe caring for the current surge in COVID-19 patients.
Bryan Health reported a total of 61 COVID-19 patients on Tuesday, with approximately 20% vaccinated against the disease.
That's a higher percentage than in recent weeks, but the health system said all seriously ill patients, including those in intensive care and ventilators, are unvaccinated.
Taylor Kadavy, an ICU nurse at Bryan, said friends and family members would always ask her about patient comorbidities, assuming they are only hospitalized for COVID-19 because they have other health issues.
Kadavy
Bryan reports 6 COVID-19 deaths over the weekend
But Kadavy said hospital stays these days have less to do with age and health problems than with non-vaccination.
"I think that's the biggest comorbidity," she said.
Katherine Wolverton, who works in one of Bryan's foster units, said she was shocked at the number of patients who didn't think COVID-19 was real and couldn't believe they got it.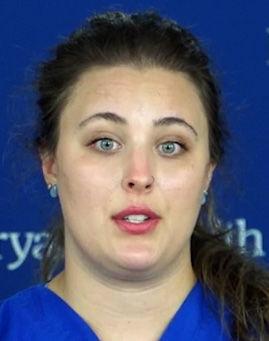 Wolverton
"Some patients don't really believe they have COVID even if they're about to be intubated," she said.