Hungary – England: visitor gamers within the Puskas Enviornment racially offended
England players were pelted with trophies after taking the lead
England condemned the racist abuse directed against their players as "totally unacceptable" 4-0 win against Hungary on Thursday in a World Cup qualifier in Budapest.
Manchester City striker Raheem Sterling and Borussia Dortmund midfielder Jude Bellingham have both been targeted.
Uefa ordered Hungary to play three home games behind closed doors after the discriminatory behavior of the fans at Euro 2020.
Charged with racism and other discriminatory behavior.
But home fans were allowed to play against England in the 67,000-seat Puskas Arena in Budapest, as this game falls under the jurisdiction of Fifa.
The tone was set at kick-off when England's players were booed loudly as they knelt to protest racism.
Hungary's player and her head coach Marco Rossi had asked fans to respect England's gesture before the game, but the news went unnoticed.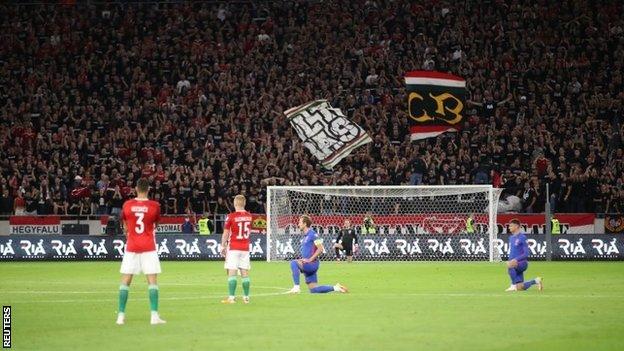 "We knocked our knees and we knew there would be a negative reaction but we think it's the right thing," said England coach Gareth Southgate afterwards
The first half was otherwise uneventful on and off the field – but paper cups and bottles were thrown at Sterling in the second half as he opened the goal for England, while a torch was thrown onto the field after Harry Maguire threw the guests on 3 had -0 ahead.
England coach Gareth Southgate was pelted with ice by fans during his post-match interview on BBC Radio 5 Live. He said: "I heard reports of racism that I hadn't heard during the game.
"Everyone knows what we stand for as a team and that is totally unacceptable. It was reported. Our chief of security has spoken to the players and recorded their testimony. We will deal with it through the right channels."
"I believe that people have been filmed and we have to hope that it is handled correctly.
"The world is modernizing, and although some people are stuck in their mindsets and prejudices, they will end up being the dinosaurs because the world is changing."
England captain Harry Kane, one of the scorers in a dominant 4-0 win, said: "I'll talk to the boys. We have to report it. If it does, the authorities can hopefully be strong." "
The football association said in a statement: "It is extremely disappointing to hear reports of discriminatory practices against some of our English players.
"We will ask FIFA to investigate the matter. We continue to support the players and staff in our shared determination to identify and combat discrimination in all its forms."
"Grace and Integrity" in the face of racism
This is the latest example of an English qualifying match being affected by racism after two incidents during the games en route to Euro 2020.
The Three Lions game was in Bulgaria in October 2019 stopped twice for racist behavior by fans. The previous march, racist chants were directed against several English players during their game in Montenegro.
Tony Burnett, CEO of Kick It Out, called on Fifa to investigate the events in Budapest as a matter of urgency.
"Kick It Out was horrified to see the actions of some Hungary fans," he said.
"We proudly support the English players and staff who have once again acted with strength, grace and integrity in the face of racism that has no place in our game or society.
"This is not the first incident of its kind in Hungary, so we urge FIFA to investigate this matter urgently.
"Those responsible must be held accountable and steps must be taken to ensure that such scenes are not repeated."
Players stand together in an "unacceptable atmosphere"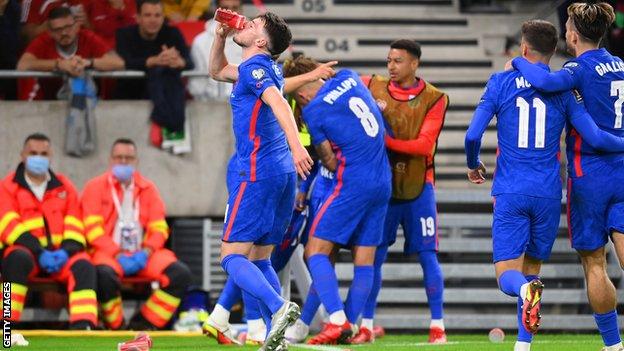 Declan Rice pretended to have a drink from a mug thrown at Raheem Sterling, as did Jack Grealish
England's players, led by Sterling and manager Southgate, have become vocal figures in the fight against racism in football in recent seasons.
And although most of them said afterwards that they hadn't heard it during the game, they were quick to condemn the racism reported to them by eyewitnesses in the stadium.
Defender John Stones, who made his 50th international appearance in Budapest, said: "It's so sad to think this is happening in our games and I hope everyone who has to take care of it does and I'm sure that they will do it.
"We stand together as a team and will continue to fight for what we believe in as a team and what we believe is right."
Manchester City midfielder Jack Grealish wrote on Twitter after the game: "Brilliant win in an unacceptable atmosphere. Well done guys."
analysis
BBC Radio 5 live reporter Juliette Ferrington at Puskas Arena
There was a wall of noise as the English players dropped to their knees.
Led by the ultras behind the goal, fans booed during that moment despite the coach, players and country leaders telling them not to exceed the mark.
With all the cheers for England's performance, the disappointing side is that the ultras turned into racist chants in the stands behind the gate that attacked England.
I definitely heard one was pointed at Jude Bellingham as he warmed up. Raheem Sterling was also targeted following Harry Kane's goal.
After the final whistle, the Ultras jumped and the Hungarian players clapped in the 18-meter space.
Throughout the week the manager urged fans to behave – we know what happened at Euro 2020 and they have been sanctioned. What I don't understand is that the players would have heard the noises and they would run around and applaud? They spent at least five minutes taking the love and support they got from the ultras.
Not very nice scenes towards the end.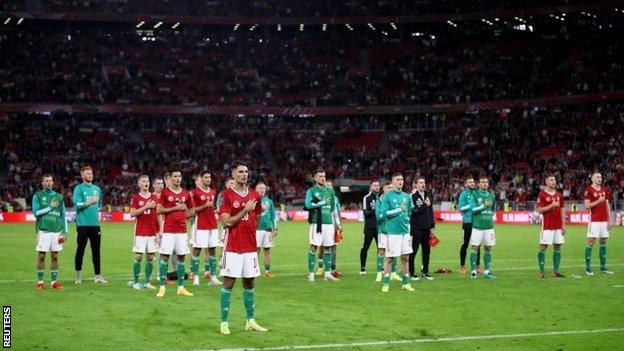 Hungary's players applauded their fans at the end


Our coverage of your Premier League club is bigger and better than ever – here is

Everything you need to know

so you don't miss a moment