Modiphius Leisure unveils SPECTER: The Board Sport
|
For fans of the James Bond 007 media franchise, Modiphius Entertainment, a tabletop game design company that deals with various licensed intellectual property such as Conan, Fallout and The Elder Scrolls, has launched a new game called SPECTER: The Board Game. In this game you play as one of several Bond villains in your quest to become number one until the end of world domination!
The eerie key art for SPECTER: The Board Game, a game from Modiphius Entertainment in which you play as the enemy of James Bond.
In SPECTER: The Board Game you play as one of several Bond villains who compete against each other and against James Bond himself and against his cohorts. According to the Modiphius Entertainment press release:
SPECTER: The Board Game features iconic weapons, locations and characters from the James Bond films. Players can assemble devices, spy on their opponents, blackmail their rivals to build their own criminal empire, and use their agents strategically around the globe to infiltrate key installations. Players must work behind the scenes to develop their nefarious plans and become 007's greatest threat!
[…]
"The James Bond film franchise is more than iconic," said Chris Birch, Co-founder of Modiphius Entertainment. "While most fans put themselves in the shoes of the hero, this game puts players in the shoes of the Bond villains instead. If you've never met villains Ernst Stavro Blofeld, Rosa Klebb and Raoul Silva, the game will be you conduct." through their exquisite evil expertise and how to use them against 007. "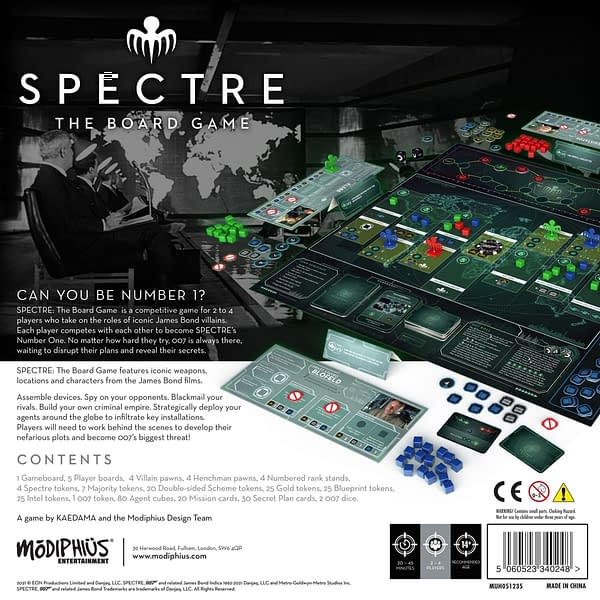 The back of the box for SPECTER: The Board Game, a tabletop game from Modiphius Entertainment.
Are you looking forward to SPECTER: The Board Game from Modiphius Entertainment? Doesn't this game look wonderfully nasty? Let us know what you think of this in the comments below!
Posted in: Board Games, Games, Modiphius, Modiphius Entertainment, Tabletop | Tagged: 007, James Bond, James Bond 007, ghost, SPECTER: The board game
Did you enjoy that? Please share on social media!